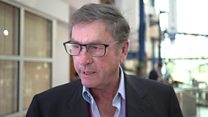 Video
Lord Ashcroft 'to donate to Conservative Party again'
Former Conservative Party treasurer Lord Ashcroft has told the BBC he is considering giving money to the party again.
But the peer - who co-authored a controversial book about former ex-PM David Cameron - said he would be donating smaller amounts through the Leader's Group, rather than large individual sums.
"I think probably I might join the Leader's Group again but that's a small sum compared to historically what I have given to the party," he told the BBC's Laura Kuenssberg at Conservative conference, adding that he hoped the era of big donors was over.
Asked if he'd be prepared to write smaller cheques, he said: "Under the appropriate circumstances and the direction in which it's heading, it's very nice to be back."
Lord Ashcroft also said he hoped Brexit took place before the European elections in 2019.
Go to next video: Ex-minister: Beware 'brutal severance'