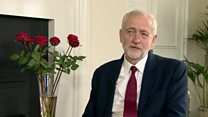 Video
Corbyn tells Labour MPs 'Let's come together and fight Tories'
Jeremy Corbyn tells the BBC's Laura Kuenssberg he is happy to "wipe the slate clean and move forward" if he wins the leadership contest, saying he knows many of the MPs "extremely well".
He added: "Despite a lot of very personal criticisms that have been made about me, all the unpleasant remarks that have been made to me by a very large number of Labour MPs, I have not replied to any of them.
"I have taken it on board, understood what they're saying and asking them to behave in a decent and responsible way and come together so that we do have an ability to take the fight to the Tories.
"Wipe the slate clean and move forward."