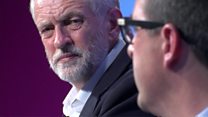 Video
Corbyn on defending a Nato ally
Jeremy Corbyn was asked during the Labour leadership hustings in Birmingham whether he would come to the aid of a Nato ally, should it be invaded by Russia.
The Labour leader said "I would want to avoid us getting involved militarily by building up the diplomatic relationships... I don't wish to go to war, what I want to do is achieve a world where there is no need to go to war."
His rival, Owen Smith, had told the debate: "We would have to come to the aid of a fellow member of Nato... that would be the job of Britain in the event of a fellow Nato member being invaded, obviously."
Mr Smith also stressed the need to improve diplomatic links between the UK and Russia.