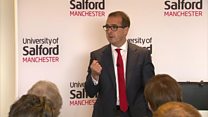 Video
Owen Smith: Publicly-funded NHS is a red line
Owen Smith has said a 100% publicly funded NHS is a "red line" for Labour if he becomes party leader, in a speech criticising what he sees as a creeping privatisation of the NHS by the Conservative government.
Challenged over remarks he made about private health providers increasing choice in the NHS when he worked as a lobbyist for drug company Pfizer, he told the BBC's Alex Forsyth said: "When we were talking about choice in the 1990s and 2000s, that was talking about the choice between different NHS providers."
The leadership challenger said there would always be some instances where the NHS had to rely on private providers, such as to make medicines, but he claimed the Conservatives were using them as "a Trojan horse to break up, denationalise and privatise the NHS".
He added: "We need to be clear in this generation, as I am, that we have red lines and those are that we want this NHS to be publicly owned, publicly delivered, 100% if possible."