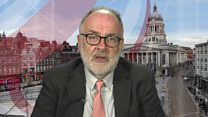 Video
Labour voting rules verdict 'a sensible result' - Falconer
Lord Falconer has welcomed the Court of Appeal's ruling that Labour was within its rights to stop new members voting in its upcoming leadership contest between Jeremy Corbyn and Owen Smith.
The former shadow justice secretary and Labour peer told BBC News it was for the party and not the courts to decide what the precise rules should be for a Labour Party leadership challenge.
He said members who had signed up after the 12 January cut-off date had been offered an opportunity to become a registered supporter for £25, giving them a vote in the election, and added: "So I don't think it's unfair, I think it's sensible."