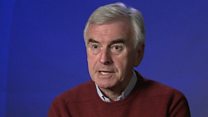 Video
John McDonnell on cutting VAT and UK interest rates
The shadow chancellor wants borrowing to fund investment with decisions made "sooner rather than later".
Asked about a call by Danny Blanchflower- who has served on Labour's economic advisory team - for a cut in VAT, John McDonnell said it was a "very creative idea", but other actions were also needed.
He was speaking to the Today programme's Sarah Montague hours ahead of the monthly decision from the Bank of England, where some commentators are expecting a cut in UK interest rates, which have been unchanged since 2009.
They also spoke about the Labour leadership contest.
Go to next video: Corbyn: No Labour MP would dream of walking away