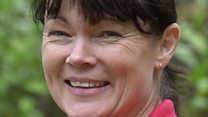 Video
Yachtswoman Tracy Edwards says it's a 'shame' honours system is 'abused'.
Round the World Yachtswoman Tracy Edwards MBE, has spoken out about the "abuse" of the honours system after David Cameron's outgoing honours list was allegedly revealed.
Speaking on BBC Radio 5 live Drive, she said it was "a shame for ordinary men and women like me who never expected to receive an award and value it so greatly, when it is abused like this because everyone looks at it and goes "oh it's nothing"".
In 1989 the British sailor skippered the first all-female crew in the Whitbread Round the World Yacht Race and was appointed a Member of the Order of the British Empire.
This clip is originally from 5 live Drive on Monday 1 August 2016.