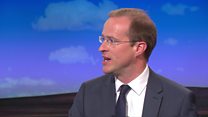 Video
Matthew Elliott on Vote Leave claims on NHS funding
Matthew Elliott is asked about the claims of extra money for the NHS made in the referendum campaign that would follow the UK leaving the EU.
The Vote Leave chief executive was questioned on the £350m-a-week claim that appeared on a bus, and he said: "We hoped the government would use that money for the NHS."
He spoke to Daily Politics presenter Jo Coburn - and guests Steve Richards and Fraser Nelson - about when the victory speech was written, and the polling for the campaign.
The Daily Politics is on twitter and Facebook, and you can look at previous clips or watch full programmes on iPlayer
Go to next video: How did Vote Leave win the EU Referendum?