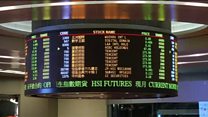 Video
Britain after Brexit: Dr Gerard Lyons and Louise Cooper
The campaign to keep Britain in the EU warned of dire economic consequences if the UK left and hoped it would persuade voters to remain.
But Project Fear - as it was dubbed by the Leave campaign - failed to convince the voters.
Daily Politics reporter Giles Dilnot looked at the impact of the decision to leave the EU has had on UK business and the economy with Dr Gerard Lyons, of Economists for Brexit, and financial analyst Louise Cooper.
The Daily Politics is on twitter and Facebook, and you can look at previous clips or watch full programmes on iPlayer
Go to next video: How Brexit could affect your weekly shop