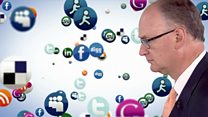 Video
Matt Ridley on social media abuse and political comment
Politicians have been attending the Reclaim The Internet conference in London, looking at claims that political debate online has seen rising levels of abuse and intimidation.
In a personal film for the Daily Politics, the journalist and Conservative peer Matt Ridley gives his take on how the internet is shaping the way people talk about politics.
He claims that social media "amplifies the personal and extremes, hots up the echo chamber, and gives wings to lies."
Watch the on-air debate that followed this film
The Daily Politics is on twitter and Facebook, and you can look at previous clips or watch full programmes on iPlayer
Go to next video: When Pokemon mania first hit