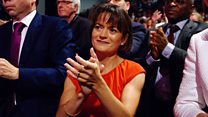 Video
Labour official slams Corbyn on bullying claims
A tearful member of Labour's National Executive Committee has accused Jeremy Corbyn of failing to protect party officials against bullying and intimidation.
Johanna Baxter, who sits on the NEC as a representative of constituency Labour parties, said there had been threats of legal action made at Tuesday's meeting to decide whether Mr Corbyn should automatically go on the ballot paper in the leadership contest.
She said the most upsetting thing was that Mr Corbyn had failed to support moves for a secret ballot for NEC members taking the decision - "the single thing he could have done to protect those colleagues".
Mr Corbyn has said he condemns any bullying or intimidating behaviour.