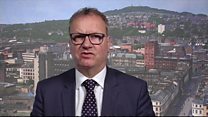 Video
Wishart and Fox on Conservatives election spending claims
SNP MP Pete Wishart has called on the Metropolitan Police for a wider investigation into whether the Conservatives attempted to subvert the Representation of the People Act over its spending in the general election campaign.
He said the issue had been "bubbling away for such a long time", and could be as big as "Cash for Honours, which blighted the Blair government so badly 10 years ago".
Daily Politics presenter Jo Coburn got reaction from Conservative Liam Fox, who accused the SNP of a "political stunt", and Labour MP David Lammy who said there was "no suggestion of Labour fraud".
Go to next video: Ex-chairman quizzed on Tory election spending