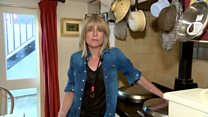 Video
Property market: Extending underground for 'iceberg homes'
Deep subterranean excavations may sound like something from a Bond film, but they are a reality in certain parts of the country, particularly in West London's built-up Notting Hill.
Some residents are digging out basements to make their houses bigger without infringing planning controls, leading to 'iceberg homes', with more living space below street level than above it.
The building work has angered some neighbours, including journalist Rachel Johnson who puts the case against them in this Daily Politics film, ahead of her debating her case on Monday's programme with MPs Liam Fox and David Lammy.