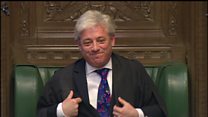 Video
PMQs: Bercow says Farron may be 'irritating' to Tories
John Bercow says the Lib Dem leader may be "irritating" to some Conservative backbenchers, but they must allow him to speak at prime minister's questions.
The Speaker told them: "However irritating the honourable gentleman may be to government backbenchers, he has a right to be heard".
Tim Farron said he was "fantastically grateful" for the introduction, before asking the prime minster about the "disgraceful racist campaign" run by the Conservatives towards Sadiq Khan in the London mayoral race.
Go to next video: Why is UK 'pouring money' into corrupt nations?