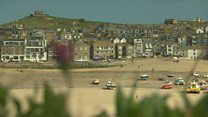 Video
St Ives: Cornwall referendum on buying second homes
The mayor of a Cornwall town explains the result of its referendum on property ownership which will mean new housing can only be built for full-time residents.
St Ives held the vote after a surge in holiday homes and a shortage of affordable housing. Mayor Linda Taylor told Daily Politics presenter Jo Coburn there had been "absolutely enormous" international interest in the vote, and it was not the only town to suffer the problem.
But Conservative MP Jacob Rees-Mogg claimed it was a "Luddite approach" that could be difficult to enforce, and more homes should be built to meet demand. He said it was a "foolish approach" that could lead to two tiers of property.
Go to next video: Don't buy your second home here