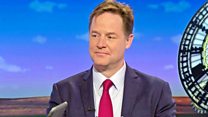 Video
Nick Clegg on the reputation of South Yorkshire Police
The problems for South Yorkshire Police are "wider than Hillsborough" and work was needed to "restore an idea of morale and purpose" says Nick Clegg.
The former deputy prime minister said the Hillsborough verdict was "another hammer blow against a force whose credibility had been damaged in so many respects over a very long period of time."
He also referred to the "horrific things that happened in Rotherham" and the force claiming no knowledge of the child sex crimes.
The former Lib Dem leader, whose Sheffield seat is within the force's area, said all options needed to be considered, but he was not advocating disbanding or merging the force as a solution.