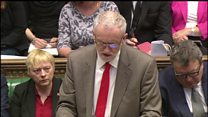 Video
Corbyn's use of public questions at PMQs to Cameron
David Cameron makes almost twice as many personal attacks as those aimed at him from the Labour leader, says a co-author of a report looking at the psychology of PMQs.
Dr Peter Bull has published research into Mr Corbyn's tactic of using questions from the public, and whether it has affected the style of debate.
He found that the prime minister continues to give a direct answer to around 20% of questions at the weekly exchanges.
Daily Politics presenter Jo Coburn got a reaction from Labour MP Lisa Nandy and Conservative MP Liam Fox.
Go to next video: Labour 'quite extraordinary' over Shah, says PM