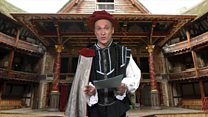 Video
EU referendum: MPs Zahawi and Bryant on Shakespeare
William Shakespeare has been named in Parliament by MPs using the Bard's words to support their political causes.
Daily Politics presenter Jo Coburn, and 'Shakespeare' represented by Horrible Histories actor Neal Foster, tested MPs the two MPs on knowledge of the writer.
The Bard's home town of Stratford upon Avon commemorated the 400th anniversary of his death at the weekend. It is represented in parliament by Conservative MP Zadhim Zahawi, who wants the UK to leave the European Union. Labour MP Chris Bryant, has claimed that Shakespeare would definitely vote to remain in the EU.
Go to next video: Shakespeare lessons for politics today?