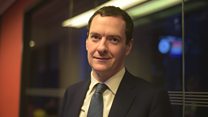 Video
How Osborne denied being a winner from his 2012 Budget
Chancellor George Osborne has published details of his tax statement which reveal he has benefitted from his own decision in 2012 to cut the top rate of tax from 50p to 45p.
On 22 March 2012, Mr Osborne told the Today programme he wasn't "personally affected" after he announced the cut in his Budget on 21 March.
"My salary is less than the £150,000 threshold. That's the cabinet minister's salary, indeed we cut the cabinet minister's salary when we came to office so I'm not personally affected," he said.
A source told the Today programme's Ross Hawkins that the chancellor had been talking only about the previous tax year - 2010-11.
"I am not a big winner from this Budget, I am not a winner from this Budget," Mr Osborne also told presenter Evan Davis.
Amid the Panama papers row, Mr Osborne has released a summary of his last tax return following the prime minister publishing his tax details.
It shows that Mr Osborne paid £72,210 in tax in 2014-15 on £198,738 in earnings, comprising his official salary, rental income and share dividends from his family's firm.