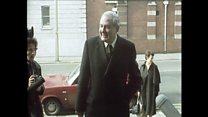 Video
BBC Rewind: Michael Cockerell on the politics of Jim Callaghan
Forty years ago Britain's governing party was caught up in a leadership election after Labour Prime Minister Harold Wilson's shock announcement that he was stepping down.
Six cabinet ministers vied to replace Mr Wilson, with Foreign Secretary Jim Callaghan emerging as victor after three rounds of voting.
His three years in Downing Street were turbulent, amid an economic crisis and mounting industrial unrest, which culminated in a series of strikes, known as the "winter of discontent".
Here, Michael Cockerell looks at the politics of Mr Callaghan, in an archived BBC Panorama programme first broadcast in March 1976.
It is part of BBC Parliament's Callaghan Night, presented by former BBC Radio 4 presenter James Naughtie, on 3 April.