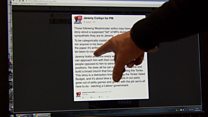 Video
David Cameron and Labour spreadsheet on MPs' loyalty
Labour MPs have been finding out if they are judged to be part of the core group, core group plus, the inner circle, or hostile according to a document leaked to the press.
Jeremy Corbyn did not seem to know about the spreadsheet which the prime minister used to taunt him at the final pre-recess PMQs. Many commentators thought the Labour leader should have enjoyed an open goal against David Cameron after the Budget controversies and Iain Duncan Smith's resignation.
Daily Politics reporter Giles Dilnot spoke to Labour MP Jamie Reed, who was branded hostile on the list.
More: Follow @daily_politics on Twitter and like us on Facebook and watch more clips from 2016 and watch full programmes on iPlayer
Go to next video: Corbyn: Budget has £4.4bn black hole in it