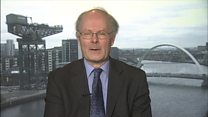 Video
Prof John Curtice: UK national and local May elections
Prof John Curtice looks at the "real power at stake" with a series of elections around the UK.
The elections expert looked at polling for the SNP, Labour and Conservative in Scotland, why people do not understand the police and crime commissioner (PCC) roles, and who could win the London mayoral election.
He spoke to Jo Coburn on the Daily Politics about the series of parliamentary, assembly, PCC, council and mayoral elections to be held on 5 May.
More: Follow @daily_politics on Twitter and like us on Facebook and watch more clips from 2016 and watch full programmes on iPlayer
Go to next video: Peer on child refugees: We owe them safety