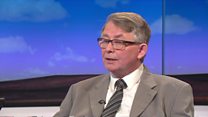 Video
Socialist Fight's Gerry Downing on the Labour Party
A revolutionary socialist, who has been expelled from the Labour Party, explains his past comments about the Middle East and the 9/11 attacks.
Speaking to Andrew Neil, Gerry Downing said he did not support ISIS "militarily or politically" but believed in providing "tactical" support, and was against US bombing.
At PMQs, David Cameron condemned Mr Downing's re-admittance to Labour, and he was expelled a few hours later by the party's NEC. But the Socialist Fight member told the Daily Politics, he would be appealing against that decision.
More: Follow @daily_politics on Twitter and like us on Facebook and watch more clips from 2016 and watch full programmes on iPlayer