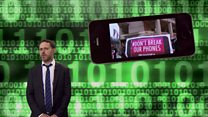 Video
Rifkind on FBI Apple legal battle over iPhone software
The UK government has published its revised Investigatory Powers Bill, dubbed the 'snoopers charter' by some.
Journalist Hugo Rifkind asks whether politicians are right to bring in new powers covering tech companies, and looks at the arguments over internet security and what individuals get up to online.
His personal film come amid a legal battle in the US where the FBI has asked Apple for software to bypass security protocols to unlock an iPhone linked to a terror attack, that some fear could set a legal precedent.
He will debate this film on Wednesday's Daily Politics with MPs, around 12:40 GMT.
More: Follow @daily_politics on Twitter and like us on Facebook and watch more clips from 2016 and watch full programmes on iPlayer
Go to next video: App spies on users' real-world chats