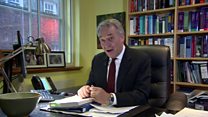 Video
Prevent programme review call from terrorism legislation reviewer
The government's independent reviewer of terrorism legislation said there needs to be similar independent oversight of the Prevent strategy.
The Prevent strategy was designed to guard against home-grown terrorism, but has been blamed for alienating the communities with which it was supposed to be engaging.
In a Daily Politics film, David Anderson gives his assessment of whether the government is getting the right balance between civil liberties and security.
He also spoke to Lord Carlile, his predecessor in the position from 2001 to 2011, and to the Labour MP Yasmin Qureshi, who represents a multi-cultural community in Bolton.
More: Follow @daily_politics on Twitter and like us on Facebook and watch more clips from 2016 and watch full programmes on iPlayer
Go to next video: How did terror legislation reviewer get the job?