Media player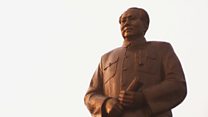 Media playback is unsupported on your device
Video
Why the fuss over Mao's Little Red Book?
It has been 60 years since Communist Party chairman Mao Zedong's Cultural Revolution spread across China - and with it came a collection of his quotations known as the 'Little Red Book'.
It became a must-have item for left-wing radicals in Europe in the 1960s and 1970s - and even appeared in the House of Commons last year, courtesy of Labour's shadow chancellor, John McDonnell. But why all the fuss?
Giles Dilnot explains in a Daily Politics film.