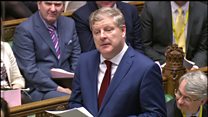 Video
PMQs: Angus Robertson urges PM against June EU referendum
SNP Westminster leader Angus Robertson has urged the government not to hold the EU referendum in June, saying it would clash with devolved elections taking place in May and risk "confusing issues".
"Why will the prime minister not respect the electorates and the governments of Scotland, Wales and Northern Ireland and make that commitment today?" he asked, at Prime Minister's Questions.
David Cameron said no date had yet been set for the referendum, but the government had legislated to ensure it could not be held on the same day as the elections in May.
Dismissing the SNP's request, he said voters were perfectly capable of distinguishing between assembly and parliamentary elections, and a referendum. "Frankly, he's looking for things to complain about," he added.
Go to next video: Corbyn raises cancer test wait times