Media player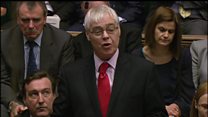 Media playback is unsupported on your device
Video
Harry Harpham MP attacks 'hand-wringing' over steel jobs
Labour MP Harry Harpham challenged David Cameron about job losses in the steel industry after Sheffield Forgemasters announced it was cutting up to 100 posts.
The Sheffield Brightside and Hillsborough MP criticised "warm words, hand-wringing and some crocodile tears" about what he called the "tsunami of losses in the steel industry".
The PM said government action on energy bills would save the steel industry £400m by 2020 and said employment in the steel industry had fallen under Labour.