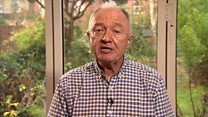 Video
Ken Livingstone: UK Nato membership doesn't matter
Labour may consider whether the UK should remain a member of Nato as part of its review of defence policy, its review co-chairman Ken Livingstone said.
The former London mayor told the Daily Politics it would be one the issues his review would probably look at, alongside the future of Britain's nuclear weapons programme Trident.
He said "it doesn't really matter whether you're in Nato or not" because the Cold War is "over".
Nato is a military alliance between the US and European nations founded in 1949 to counter any Soviet Union threat.
A Labour Party spokeswoman later told the BBC that Nato membership was not part of the defence review being led by Mr Livingstone.