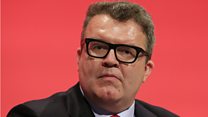 Video
Watson: Farage postal vote complaint 'sour grapes'
UKIP leader Nigel Farage is "crying over spilt milk" in his criticism of the postal-voting system, following a decisive victory for Labour at the Oldham West and Royton by-election, Labour deputy leader Tom Watson says.
After the result, Mr Farage claimed the vote was "bent" and earlier told the Today programme the electoral process was "effectively dead".
But Mr Watson told the Today programme that this was just "sour grapes" from Mr Farage and that he should have reported concerns to the police if he has evidence of electoral fraud.
"If you look at the scale of the result it was pretty decisive," Watson told Today presenter John Humphrys.
Go to next video: Farage: 'Electoral process dead'