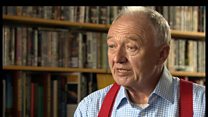 Video
Ken Livingstone says Kevan Jones should apologise first
Former London mayor Ken Livingstone has refused to apologise for suggesting shadow defence minister Kevan Jones - who has battled depression - "might need some psychiatric help".
Labour leader Jeremy Corbyn is among those calling for an apology. But Mr Livingstone told the BBC: "I grew up in south London where if someone's rude to you, you are rude back."
He added: "He should withdraw his criticism of me first and then I'll go for a drink with him."
Mr Livingstone has since issued an "unreserved" apology on Twitter.
His appointment to Labour's defence review team has sparked a row within the party.