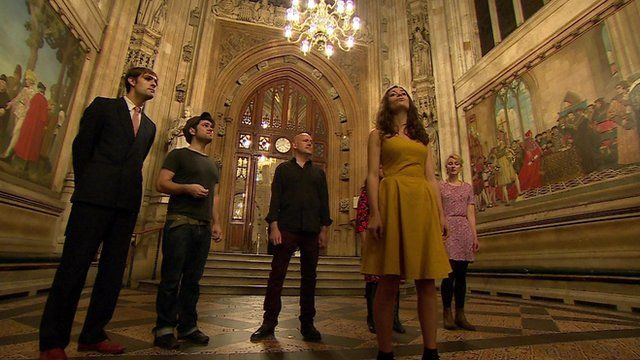 Video
Westminster gets musical with songs about Speaker and Hansard
This weekend Parliament is hosting its first a cappella song tour as part of its 2015 Anniversaries programme.
The Mouthpiece walking tour mixes historical detail with songs based on interviews with people working in Parliament. They include a Doorkeeper, a Hansard reporter and the Commons Speaker John Bercow.
Composer and director Jennifer Bell was inspired by the outbreak of singing in the New Zealand Parliament in April 2013 when it voted to legalise same-sex marriage.
She says: "Choirs of singers are a really lovely metaphor for any political group because you've got the general voice but you are also thinking about how the particular voice operates within it."
The two tours take place on November 14 and 21 with plans to stage the piece in other venues next year. The Week in Parliament caught up with the choir at the dress rehearsal - you can watch the full report on BBC Parliament at 23:00 BST on Friday and afterwards on iPlayer.