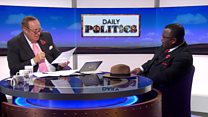 Video
Ex-UKIP candidate Winston McKenzie: London is a dump
A former election agent who courted controversy for claims that a south London borough was a dump, now reckons that description applies to the whole capital.
Winston McKenzie, who has since left UKIP, was reminded of his comments in an election campaign about Croydon being a dump, and he told Andrew Neil: "I am sorry I did not include the rest of London, it's a complete dump."
He claims the city needed an enema and was not like the London he arrived in when he was five-years-old, as he called for water cannon to clean the streets.
Go to next video: Ex-UKIP candidate on 'racist abuse'