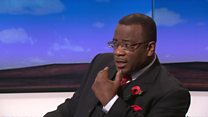 Video
Ex-UKIP candidate Winston McKenzie on 'racist abuse' in party
Former UKIP candidate Winston McKenzie said he quit the party because he suffered racial discrimination.
He said there were "four or five people" in the party who were "blatantly racist" but told the Daily Politics he was not referring to leader Nigel Farage, those "directly involved" with him, or the party members.
Presenter Andrew Neil said UKIP had declined an interview to respond to Mr Mackenzie's claims but issued a statement in which the party said it was "saddened by the manner of his leaving", would miss him and wished him well.
Go to next video: 'All of London is becoming a dump'