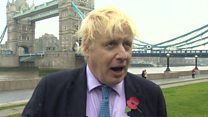 Video
Boris Johnson on tax credits vote and London Living Wage
The chancellor was "absolutely right" to reform tax credits, which were "very unfair" to people on low incomes, said Boris Johnson.
The Mayor of London told the BBC: "He is right, I think he is doing a great job and that is the right way forward. The House of Lords is in the wrong."
And he claimed members were pushing their luck and the House of Lords was "completely wrong to throw this thing out or ask for a delay."
Mr Johnson said a new "attractive rate" would be announced for a London Living Wage on Monday.
The mayor apologised through the interview for being "puffed out" having just competed in a tug of war.
Go to next video: Boris Johnson takes tumble in tug of war