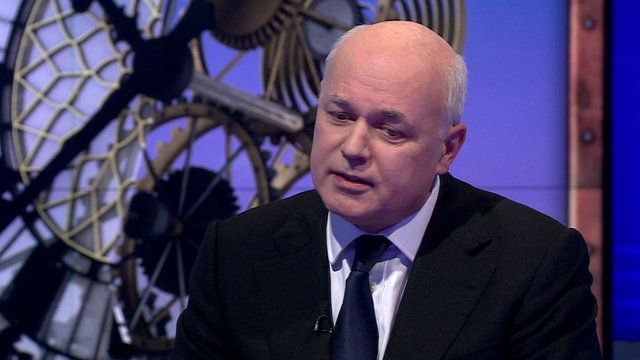 Video
Duncan Smith: More use food banks in Germany than UK
The number of people using food banks in the UK is "tiny" compared with Germany, Work and Pensions Secretary Iain Duncan Smith has told the BBC's Sunday Politics.
Last week a report by a cross-party group of MPs found benefit-related problems were the single biggest reason for food bank referrals.
Mr Duncan Smith told Andrew Neil it was wrong to suggest the use of food banks was purely a benefits issue.
Mr Duncan Smith said Germany had more generous benefits and higher pay, but that 1.5 million people each week used food banks there, despite the country having more generous benefits and higher pay.
"So just saying it is to do with benefits is quite wrong. What I do say is there are lots of other reasons lots of people go to food banks," he said.
More: Follow @daily_politics on Twitter and like us on Facebook and watch a recent clip and watch full programmes on iPlayer
Go to next video: 'We are lifting people out of poverty'