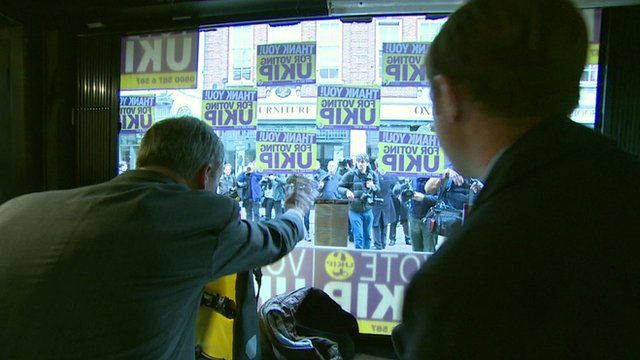 Video
Rochester and Strood by-election night scenes
The Rochester and Strood by-election saw UKIP win the seat, after initial polls suggested a Tory hold but later shifted to predict a big majority for Mark Reckless, who defected and stood down to force the vote.
In a Sunday Politics film, Adam Fleming went behind the scenes at the BBC's live coverage programme awaiting the result, and with UKIP leader Nigel Farage on the morning after, where he dismissed the need for election pundits.
He also heard about the international interest in the contest, talk about possible future defections, and about how a Labour tweet made the headlines.
More: Follow @daily_politics on Twitter and like us on Facebook and watch a recent clip and watch full programmes on iPlayer
Go to next video: Thornberry: 'I got it wrong over tweet'