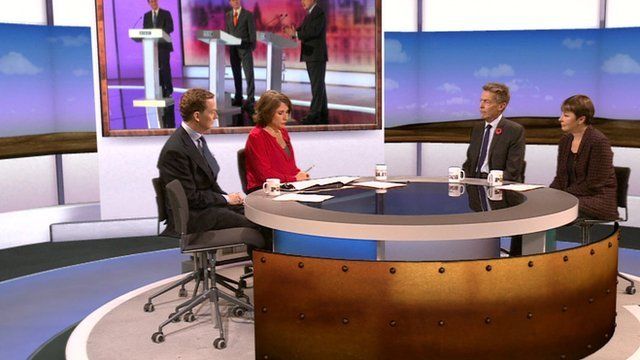 Video
TV election leaders debate: Lucas, Barker and Bradshaw
The criteria for deciding which political leaders should be in the 2015 TV general election debate keep changing and were "not clear and very backward-looking" said Green MP Caroline Lucas.
She was looking at the rules being used by broadcasters to explain their bid for three debates with a range of Labour, Tory, UKIP and Lib Dem leaders.
Caroline Lucas spoke to Daily Politics presenter Jo Coburn, along with Labour MP Ben Bradshaw and Conservative Greg Baker, over who should be invited and whether they would go ahead. The panel of MPs spoke after watching a Daily Politics film on what parties wanted.
More: Follow @daily_politics on Twitter and like us on Facebook and watch a recent clip and watch full programmes on iPlayer
Go to next video: What parties want in TV election debates