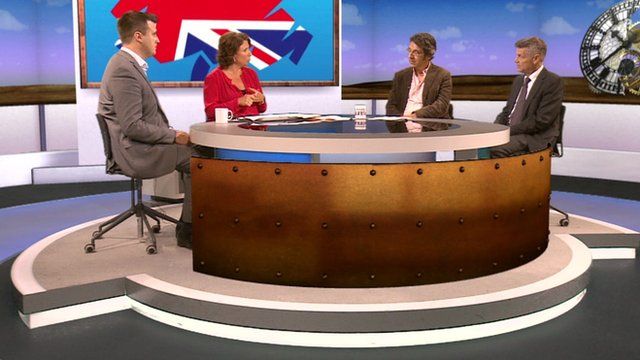 Video
Parris and Wallace on Europe and UKIP threat to Tories
Conservative Europhobes in the party have not gone away, and they have never forgiven their party for Maastricht, said Tory MP-turned-journalist Matthew Parris.
He claimed they were "so bitter, so angry and so zealous in their anti-European ideology" they were prepared to destroy unity of their party over the European issue.
ConservativeHome executive editor Mark Wallace claimed former Tory MP Douglas Carswell had made the wrong decision, and his defection to UKIP threatened the possibility of a Tory election win at the 2015 general election.
They spoke to Jo Coburn on the Daily Politics about the European issue and threat from UKIP at the Clacton by-election on 9 October and the next general election.
Follow @daily_politics on Twitter and like us on Facebook and watch a recent clip
Go to next video: UKIP defection a 'magnificent gesture'