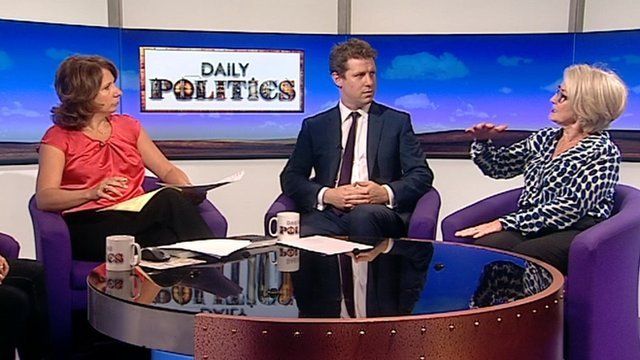 Video
Interest rates to rise: Ann Pettifor and Fraser Nelson
Most people expect a rise in the Bank of England interest rate, but few are sure of the date when savings and mortgage rates will start to climb.
PRIME Economics director Ann Pettifor said the government was encouraging people on low incomes to take out mortgages through Help to Buy, and said "God help us all who have mortgages" when rates rise.
Spectator magazine Fraser Nelson said a steep rate rise "could blow a bubble", and that rates should start to "crawl" back up, so people could see if they could cope with dearer mortgages.
They spoke to Jo Coburn on the Daily Politics, along with blogger Jack Monroe, who talked about the Living Below the Line campaign.
More from the Daily and Sunday Politics: Watch full programmes from the last seven days via BBC iPlayer; 'like' us on Facebook page or 'follow' us on Twitter
Go to next video: Poverty 'promises have not been kept'