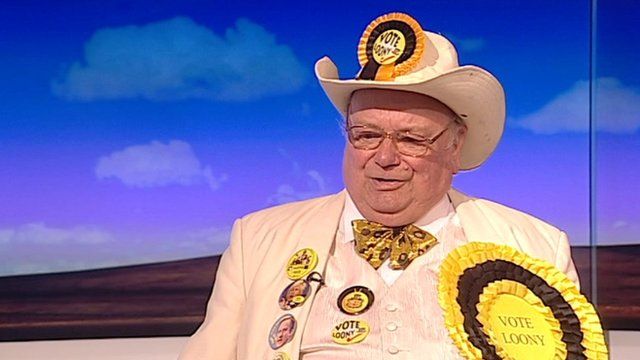 Video
Loony Party leader Alan Howling Laud Hope on finances
The Official Monster Raving Loony Party has lost its sponsor but can continue "for a long, long time" while seeking fresh financial support, said its leader.
Alan 'Howling Laud' Hope said the party was "not in dire trouble", but had been able to put up 28 candidates at the 2010 general election due to support from a bookmakers.
On the Daily Politics, Jo Coburn spoke to the party leader, Graham Sharpe from William Hill who suggested potential financial backers, and former Labour Home Secretary Charles Clarke after they watched a film on the party's highlights.
More from the Daily and Sunday Politics: Watch full programmes from the last seven days via BBC iPlayer; 'like' us on Facebook page or 'follow' us on Twitter
Go to next video: What are Cameron and Miliband's odds?