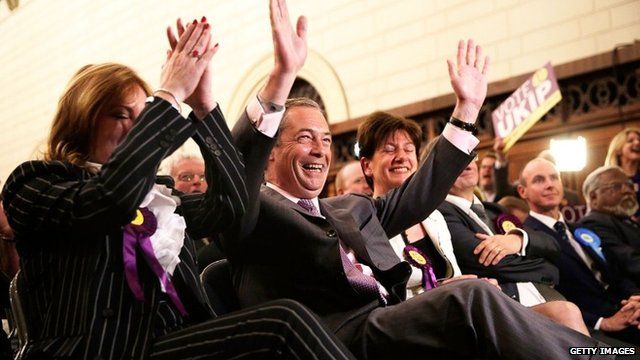 Video
Farage hails 'extraordinary' UKIP win in European election
The UK Independence Party is a truly national force and has "momentum" behind it, Nigel Farage has said after its victory in the European elections.
Hailing a "breakthrough" in Scotland and a strong showing in Wales, he said UKIP would target its first Westminster seat in next week's Newark by-election.
UKIP won 27.5% of the vote and had 24 MEPs elected; Labour, on 25.4% or 20 seats, narrowly beat the Tories into third place while the Lib Dems lost all but one of their seats and came sixth behind the Greens.
BBC political editor Nick Robinson reports.
Go to next video: Down the pub with victorious Farage