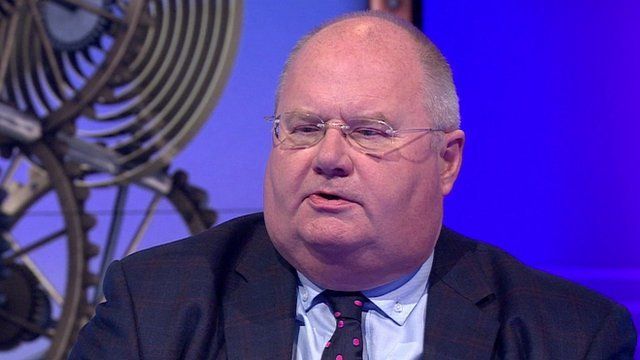 Video
Election: Pickles on Tory immigration target and polls
The Conservatives will "move towards that target" said the communities secretary about government plans to cut net migration to less than 100,000 per year by the general election.
On the Sunday Politics, Andrew Neil asked Eric Pickles several times whether the government would meet Theresa May's target figure, after immigration appeared to be a key issue in Thursday's local and European elections.
Mr Pickles also claimed that David Cameron has got "a better record than just about any prime minister" on Europe, and rejected David Davis' calls to bring forward the planned 2017 referendum to 2016, as well as ruling out any future UKIP pact.
And speaking about Lord Ashcroft polling suggesting his party would lose seats next year, Mr Pickles said: "This is not a prediction, it is a snap shot."
More from the Daily and Sunday Politics: Watch full programmes from the last seven days via BBC iPlayer; 'like' us on Facebook page or 'follow' us on Twitter
Go to next video: Clegg is 'best PM Britain hasn't got'