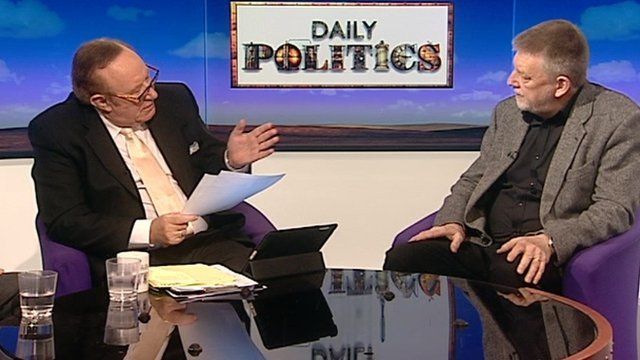 Video
2014 election: Dave Nellist on TUSC socialist policies
The Trade Union and Socialist Coalition (TUSC) aimed to "give hope to people there is a different argument out there" said the national chair of the group standing in the May elections.
Dave Nellist said the party struggled to get media coverage to tell people how it stood apart from the three largest parties in Parliament over austerity, and that it was the sixth-largest party, in terms of the number of candidates standing, in the local elections.
The former Labour MP for a Coventry seat, who was thrown out of the party, told Andrew Neil about his relations with the then-leader Neil Kinnock.
Mr Nellist joked that he was responsible for New Labour, after Tony Blair moved out of their shared office and ended up sharing a room with Gordon Brown instead.
More from the Daily and Sunday Politics: Watch full programmes from the last seven days via BBC iPlayer; 'like' us on Facebook page or 'follow' us on Twitter
Go to next video: Left Unity bid to win 'disaffected Labour'