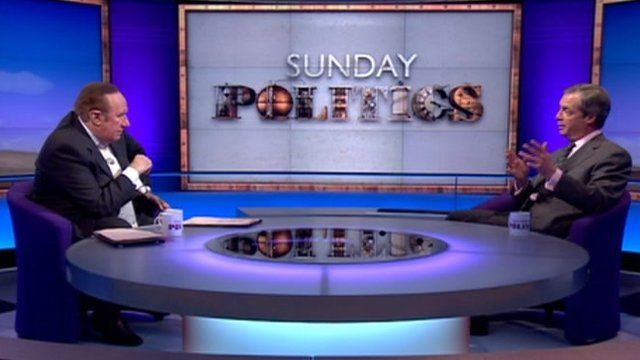 Video
Farage: UKIP to target blue collar Labour voters
Only a third of UKIP voters have come from the Conservatives, and the party is to target traditional Labour voters in the Midlands and northern England, said the party's leader.
Nigel Farage claimed two-thirds of UKIP voters would never vote Conservative, and the party was appealing to the "blue collar" workers and previous non-voters.
He spoke to Andrew Neil about party funding and the contributions from donor Paul Sykes, employing his wife, allegations about his private life, the upcoming debates with Nick Clegg, plus European elections this year and the 2015 general election.
More from the Daily and Sunday Politics: Watch full programmes from the last seven days via BBC iPlayer; 'like' us on Facebook page or 'follow' us on Twitter
Go to next video: Will EU vote pledges affect 2015 election?