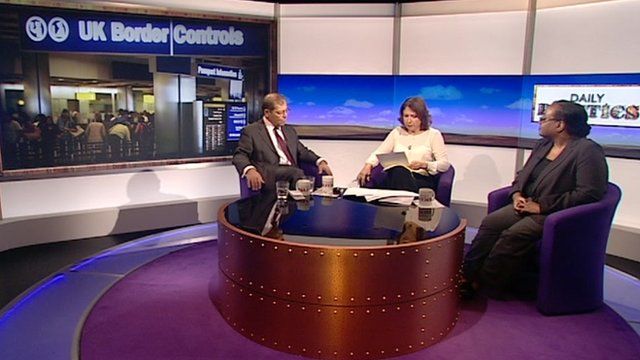 Video
Immigration debate: Alp Mehmet and Diane Abbott MP
Alp Mehmet, a first generation immigrant and former diplomat who now sits on the advisory council of the pressure group Migration Watch, said people no longer look at him and say "there's a foreigner".
He was debating migration figures with Labour MP Diane Abbott who said she did not know why Labour had apologised for its record on immigration, and said the last government had not operated an "open-door" policy.
She claimed that immigrants were "scapegoats" in an economic downturn, and said many "wildly overestimate" the numbers of foreign people in the UK.
The debate came after they watched a Daily Politics film on immigration statistics.
More from the Daily Politics: Watch full programmes from the last seven days via BBC iPlayer; 'like' us on Facebook page or 'follow' us on Twitter
Go to next video: UKIP's Bashir rejects 'racist' claims