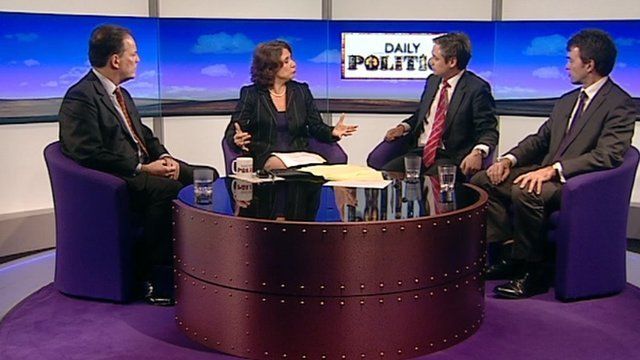 Video
MPs' pay rise: Mark Field, John Woodcock and Tom Brake
The Parliamentary watchdog Ipsa is set to recommend a rise of £7,600 for MPs - around 11% - after the 2015 election.
Lib Dem MP Tom Brake said it would be "entirely the wrong time" for the inflation-busting rise, after the panel watched a clip of Danny Alexander speaking against the proposal.
Labour MP John Woodcock said MPs had to "understand just how much people are struggling" and it was not the time for such a rise. He said Ipsa "should listen to what the country are saying and act on this".
But Conservative MP Mark Field said the package was "cost neutral" as MPs would gain pay, but lose some expenses and allowances.
Asked if he would take the money, he said there was "no doubt I would accept it", and he attacked the cost of politics with a larger House of Lords and more government special advisors.
More from the Daily and Sunday Politics: Watch full programmes from the last seven days via BBC iPlayer; 'like' us on Facebook page or 'follow' us on Twitter
Go to next video: Should MPs get a 9% pay rise?