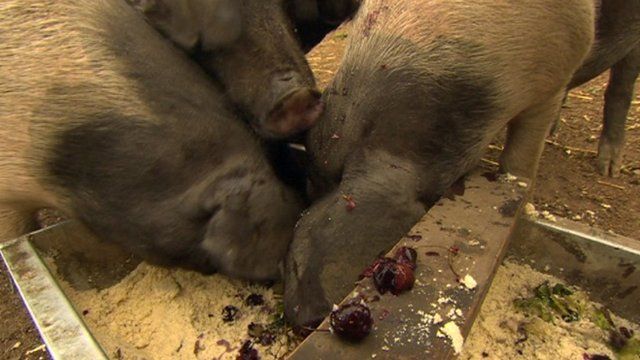 Video
MasterChef winner Thomasina Miers on farm pigswill ban
Some celebrity chefs have joined forces to try and change what British farmers can feed their pigs, after a ban on the porkers eating catering waste was introduced during the 2001 foot and mouth outbreak.
Thomasina Miers, winner of MasterChef and co-founder of the Wahaca restaurant chain, said the ban was having an "environmental and economic impact".
And she claimed farmers were going out of business because of the cost of grain to feed their animals, instead of using unused food.
She presented her personal film on Wednesday's Daily Politics, before debating with Labour MP Owen Smith and Conservative MP Esther McVey. The full programme is on iPlayer for seven days.
More from the Daily and Sunday Politics: Watch full programmes from the last seven days via BBC iPlayer; 'like' us on Facebook page or 'follow' us on Twitter
Go to next video: Should pig swill from waste food be back on the menu?