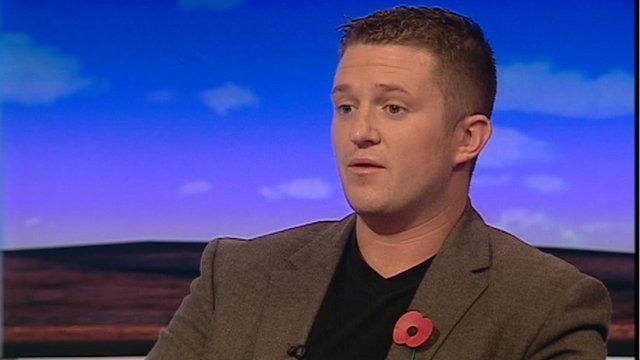 Video
EDL founder Tommy Robinson on Mo Ansar TV documentary
The founder of the English Defence League (EDL) who made a TV documentary with prominent British Muslim Mo Ansar said he liked his counterpart but found he was "in denial".
Tommy Robinson said Mr Ansar wanted to be seen as a "defender of Muslims and defender of Islam", but that he should spend more time tackling problems in his own community.
The ex-EDL leader told Jo Coburn he had made mistakes with the EDL, but he was "on a journey".
The BBC documentary Quitting the English Defence League: When Tommy Met Mo ended with Mr Robinson's decision to leave the EDL.
Daily Politics clip: Mo Ansar on Tommy Robinson and EDL documentary
More from the Daily and Sunday Politics: Watch full programmes from the last seven days via BBC iPlayer; 'like' us on Facebook page or 'follow' us on Twitter
Go to next video: Ansar: There are soft sides to Tommy