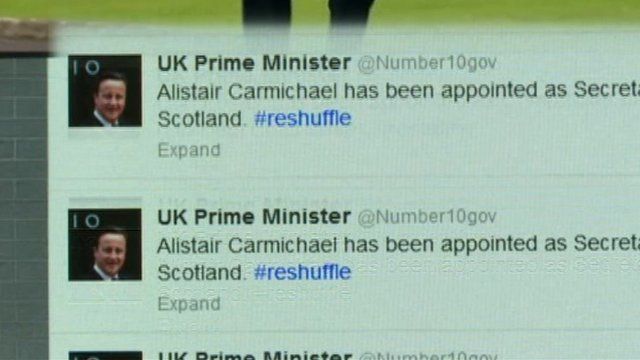 Video
Twitter role in reshuffles of cabinet and Labour shadows
Twitter played a key role in the government reshuffle for the first time with news of promotions released on the prime minster's official social media account.
It meant those losing a role did not have to try to arrive and leave Downing Street via the back door, to hide from the media cameras.
Giles Dilnot looked back at the how the politicians and media learned more about the new-look government, and what journalists made of the new look cabinet and shadow cabinet.
He spoke to Adam Boulton from Sky News, Mark Ferguson of the Labourlist website, and the former Scottish Secretary Michael Moore.
More from the Daily and Sunday Politics: Watch full programmes from the last seven days via BBC iPlayer; 'like' us on Facebook page or 'follow' us on Twitter
Go to next video: Moore: 'I am disappointed to leave'